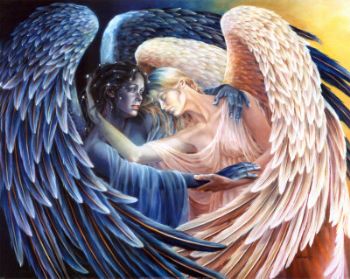 and it is not good. It is not what I wanted to hear and I am sick...absolutely in shock, numb sick. I called to say hello before leaving for an appointment today to say my usual hello I love you and my brother-in-law Darrell answered the phone. The doctors had just left. Darrell very softy relayed all that had been told him. Where the cancer is and why they could not find it earlier and immediate plans for Hospice.
When he finished all I could respond was oh Darrell, I am so sorry...I am sorry for all of us. I went on to repeat all and then to say Hospice? Is it terminal? he said more than likely yes. The doctors were coming back later in the day (I haven't called yet) to discuss in more detail plans of action if any. Darrell went on to say that he and Jane had discussed and she stated that if the treatment was not going to cure she'd prefer not to go through it.
I again said I was so sorry...asked how he was, bless him he is so tired and sad. He stated maybe Jane can come home in a day or so. I asked if I could call again this evening and he said yes.
I was so numb and had an appointment I had to go to for new business. I prayed all the way to the appointment for strength. I knew if I called anyone I would cry and I could not do that...not yet anyway....
Appointment over, I called my best friend and we talked and talked and talked. She lost her Mother to cancer and she was there for me. I told her to please tell me about anything and everything light hearted....I did not want to discuss and she did. She and me laughing at silly things. We discussed back and forth the finality, the reality what is is.
Came home and told my husband as he was not here when I initially learned Jane's destiny. We talked quietly both agreeing that we somehow knew the outcome was not good. I recalled telling hubby when I first learned cancer and come back that the feeling of calm not there...that it did not bode well and I had a bad feeling.
Am upstairs in office and it has hit me....I am crying....a good thing. I need to be strong. Hubby and I going to hospital tomorrow. I want to hold Jane's hand and tell her I love her and how much she made my life worthwhile. Damn it, the medicine will not even allow us any more memories. I can;t type any more I can't see for the tears.
God I now pray to you in your infinite wisdom to please take Jane quickly and spare her the pain she is suffering from. Amen