Alcohol- my once friend
Thursday, July 17, 2008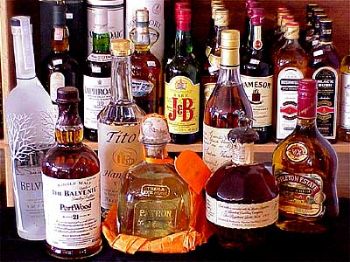 "I am Ukrainian. Drinking is in my blood." This used to be a phrase that I used to say to most people when I was about to hit a night of partying. It is a phrase that most Slavs like to carry in their back pocket...and it is true, I can hold my liquor rather well.
But I must admit my relationship to alcohol has changed drastically.
When in college - drinks were everywhere and they made horrid social situations somewhat more bareable. After college- drinking mimicked the instability of post-college life. I would go out to drink with friend until 4am on a weekly basis. We didn't know what our futures held for us and none of us were mentally healthy.
Now - taking back hold of my life I am re-evaluating my relationship with booze. First of all, 50lbs lighter-I cannot drink like I used to. I get lightheaded more easily. Second, it is no longer my idea of a good time. I don't want to use it as an escape route-and I know I don't want to rack up the calories it affords either.
I'm not making some freshman claim that I will never drink again, but its interesting to see how my healthy lifestyle change has affected now my social patterns. No longer do I A-line it for the bar at a party....and no longer can I pound drink after drink.
But let's be real- I still will surely have a hard time saying no to that perfect glass of red wine after dinner.