Shelby zooming to gold
Sunday, October 19, 2008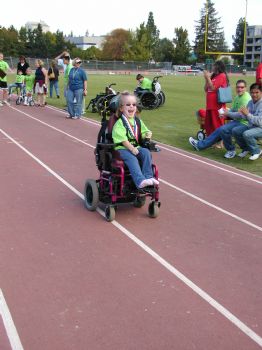 Shelby absolutely loved every second of the A.C.T. games and won 2 medals for her 25 and 50 relay and a ribbon for a "discus throw." She saw tons of people she knew - 2 of her best friends and quite a few staff she knew from things like power soccer. Steve's dad came and it was so much fun. Shane had a great time too - playing basketball, running around the track and of course all the food.
After the morning's excitement was over, we came home, did some chores, ate dinner then went to church.
/Bummer parts of today:
* Shelby pooped her pants at the games this morning but "didn't know it" and at church, one of the volunteers pulled me aside to tell me about her accident where she pooped her pants again.
* I'm really frustrated w/how I look in the pictures from today which got magnified when I had a hard time figuring out what to wear to church tonight.
* My back was on fire so I took a pain pill before church which probably should've been an anti-inflammatory to try to take the edge off since at chuch - I was one sleepy mommy.
Tomorrow is horseback riding for Shelby and I as well as a play date and the boys are going to a NFL game. Fun, fun.