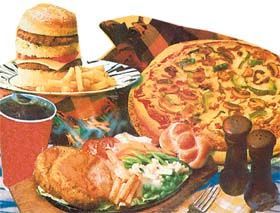 So I have given myself 3 little goals to start out with. I wanted it to be something little, not too much time or trouble, but just something to get me started back onto the right path. I came up with:
1. I can eat whatever I want, but I have to track everything I put in my mouth.
2. I can drink as much soda as I want, but I have to drink at least 2 bottles of water a day (5 glasses)
3. I have to exercise 20-30 minutes on my treadmill, Mon - Fri. (As I already do this, this is not expecting a lot)
So, food wise I started out fairly good at first. I started this year with the focus less on losing weight, and more on trying to come to terms with why I compulsively overeat, when I tend to do it, and the emotions behind it.
So, yesterday, started out the same as any other day. But at some point, (I was frustrated with work stuff), I started munching on stuff from the breakroom (Chocolate Candy , Doritos & a hot pocket). I pretty much ate all afternoon. Then at night, I made up a whole batch of Spinanch and cheese Tortelloni, with marinara, Italian Sausage, and Provolone Cheese, and then proceeded to eat the whole thing (it 3 different sittings, but still) as well, as the leftover stuffing from the night before.
This morning, I was determined to put in all in the tracker, and though I expected it to be alot, I was pretty disgusted by the results:
4909 Calories
213g of Fat
(Not to mention my sodium intake was 12,600!!!!!!!!!)
So take my intake 4909 minus my BMR 2500 minus the calories burned during exercise 300 and you get 2109 extra calories. That's .6 of a pound that I gained right there.