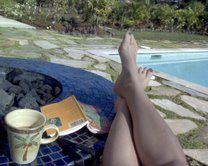 Island Girl is back; with some sage advice.....If you haven't read Coach Dean's article on Weighing in, I urge you to do so. It's at the end of this blog.
Since ditching the scale just a short while back, December I think, I admit to having the expected detox effects for a while. I weighed a few times, felt bad about myself, ditched the scale and repeated the cycleuntil I finally gave up that nasty habit.
What changed me recently was that I started to appreciate my body like never before. Seriously, like NEVER before. With the release of the scale, my attitude began to change about my body. Just like any other good habit, the more I worked on it, the more I began to choose other things to "see" instead of so called bad things....
I mean, think about addiction. You replace one habit with another good habit, right? Now, I appreciate the changes I see in my thighs (definitiion), my tummy.... (flatter) my upper arms..(definition, finally!)
But, had I weighed myself on the island, I would have immediately hated myself again, DESPITE having previously seen good things! That scale would remind me that I wasn't working hard enough and it would create a negative downard spin on all my efforts and progress so far. Who needs that!?
Since ditching the scale, my attitude gives way (ONLY) to seeing positive. And that is pretty much it!
As you guys know, most of the changes we see come from diet. At least half if not more of what you see is from what you put into your mouth. We see it in body fat ratios, we see it in skin tone, eyes, sleep patterns..
If you aren't properly nourished , your body will tell you so and you will see it in the reflection of that mirror. Be careful!
As to vacation, even though I had a less control over some of our meals and times we ate etc, what I chose to focus on was the changes I had made. The transformation from this body to the last one is pretty nice. I found myself mesmerized (poolside, mind you) on the the whole shift of attitude I had regarding the scale. When you move away from the 'dream' of the scale or society...you move towards freedom and peace. And I truly felt beautiful.
So after some glutenous behavior while on vacation, (cheese crackers, wine...) I knew I had to pay for it. But instead of worry and doubt, and self loathing that the scale would have brought me, I jumped into the pool EACH day and spend at least 30 minutes treading water or swimming and MOVING....
And that action alone erased any potential loathing and stress caused by snacking on a few unclean foods. (Remember you can't eat clean all the time- people just aren't always on the same page. I was also a guest in someone elses home for the entire vacation. My diet wasn't totally screwed up, but it changed and I moved with it) The difference here is that my attitude did not shift. I remained focused and exercised more cautioun about choices while having fun too. I was more relaxed. The result? I felt fantastic.
(sidenote; I urge you all to take a tropical vacation for body and mind rest)
I've got to tell you, I do indeed wonder how much I weigh now, but I don't really care, you see? I suspect I'm way off goal, but my jeans tell me otherwise. They tell me I'm okay. Why? Because I'm finally accepting that it's okay that muscle weighs more than fat. I prefer that and the digits on the scale can't matter when you choose to prefer more muscle over fat... The digits on the scale have no place in that equation
I think that's our biggest obstacle. But once you accept that... you can live happy and free.
Honestly, when I wonder about what I weigh, It's a smitten and giggly kind of wonder... because things fit well...
-I'm leaner (despite not fanatically working out)
-I'm more focused on my goals which are no longer being dictacted by linear thinking. They are bigger picture goals or cyclicle and involve self love not loathing.
I can only wish and pray that our world will ultimately change and society will shift it's pressures from being rail thin to being a healthy weights...For the sake of our young peoples health...particularly girls, I urge you all to start a revolution in your hearts....."spark" the flame and start loving your body. :)
**PLEASE REVIEW ARTICLE BELOW****
Take the Stress Out of Weighing In
Mind Over Body: A Healthy Lifestyle Plan for Success
-- By Dean Anderson, Behavioral Psychology Expert
Does seeing the wrong number on the scale make you crazy? Many people find that a badweigh-in ruins their mood and saps their motivation, making it difficult to keep doing what they know they need to do.
Things don't need to be this way. You can learn to use the scale as a helpful tool, instead of giving it the power to dictate your feelings and your actions.
Many experts and experienced dieters will tell you that the only realistic way to take the stress out of your weigh-ins is to skip them altogether—or at least keep them to a bare minimum. After all, there are many other ways to measure your progress towards your health and fitness goals, especially since weight loss is rarely predictable or orderly.
Although we talk about weight loss in terms of numbers—calories in versus calories out—your body is not a calculator and it doesn't operate like a checking account. A number of things (like fluctuations in water weight, increased muscle mass, and your body's anti-starvation mechanism) can and regularly do conspire to make the number on the scale the least reliable measure of weight loss success. And if you're the type of person who needs to see that number coming down on a regular basis in order to avoid frustration, despair and panic, frequent weigh-ins may be exactly what you shouldn't do.
But let's face it. Expecting yourself not to weigh-in frequently is like expecting yourself not to scratch when you've got an itch. For many of us, it's just not in the cards. And besides, there are some good reasons to track your weight frequently. Since most of us don't exactly match the "average" person used in all the formulas for predicting energy expenditure, you may need a little experimentation to find the right combination of calories and exercise that will work for you. Watching the scale as you experiment can be an important part of that process.
So, maybe the real issue here is how you can have your cake and eat it, too. Here are three things you can do to make sure your love-hate relationship with the scale doesn't cross over the line and become part of the problem instead of part of the solution.
3 Ways to Take the Stress Out of Your Weigh-Ins
1. Be clear with yourself about what that number on the scale really means. That number on the scale only tells you how much you weigh at that moment. It tells you absolutely nothing about what kind of person you are; what life has in store for you; whether or not you'll ever look the way you want to look or feel the way you want to feel; or how other people see or think about you. If you experience thoughts or feelings like these just because you see an unwelcome number on the scale, then your expectations about what weight loss can do for you need a major overhaul. You may want to take the Is Weight Loss Stressing You Out? quiz to see if you need to do some work on that front—before you paint yourself into a corner you can't get out of.
2. Remind yourself that you are choosing to use the scale as a weight loss tool. It is NOT your judge, jury and executioner. It's probably a good idea to post this reminder where you will see it each time you step on the scale. It can help to include a short list of the most important reasons why you are trying to lose weight in the first place, and some of the ways you can measure your progress towards those goals (besides the scale).
3. Use the number on the scale to actually help your program work for you. If you're going to use the scale as a tool, you might as well do it right. Try keeping a journal (or better yet a computer spreadsheet) where you track your weigh-ins (daily, weekly or monthly), your total calories eaten during that time period (from your Nutrition Tracker) and your calories burned through exercise (from your Exercise Tracker). Once a month, add the numbers up and see if things are going the way they "should" be. Figure out your total calorie deficit for the month, and see if your weight actually behaved according to the "3500-calorie deficit equals one pound lost" formula. If it didn't, then try to figure out why, using a method like this:
* First, go back to basics. About 90% of the "mysterious" differences between what should happen and what does happen can be traced to underestimating calorie intake and/or overestimating calories burned. For the next few weeks, double check yourself on your calorie counting, portion estimating, etc., and make sure you're not leaving anything out of your nutrition tracking.
* If that doesn't solve the problem, figure that there may be something wrong with the estimates you are getting for your exercise calorie burning and/or your non-exercise calorie burning (your basal metabolic rate—BMR). Consider investing a little money in a heart rate monitor with a calorie estimating feature to wear during exercise, and/or having your BMR tested at a local gym with a device called the BodyGem (costs about $50). Use this info to adjust your calorie intake and/or your exercise, and see how this new plan works for the next month.
* If all else fails, talk to a dietitian or your doctor to rule out any unusual metabolic problems, or medical issues. But again, 9 times out of 10, it's most likely a simple problem with getting the right numbers.
Above all, keep in mind that it is NOT a lower number on the scale that makes all the work you are putting into your weight loss efforts worthwhile. What makes it worthwhile is the increased happiness and other benefits that come with doing the best you can to eat a healthy diet, being as fit and active as you can, and doing all the other things that make you feel good about yourself. These benefits depend much more on your attitude and the quality of your efforts than on any number you see on a scale.
Shifting your focus from the scale to the quality and consequences of your own attitudes, perspectives, and efforts is the first step in moving from a â diet mentality" (which doesn't work) to a "lifestyle change" (which can get you where you want to go). You can read more about these issues in the following articles:
Stop Dieting and Start Living!
Dieting with a Positive Twist
6 Weight Loss Mistakes to Avoid