Waist-loss. Dropping inches! (now down 18lbs)
Sunday, March 30, 2008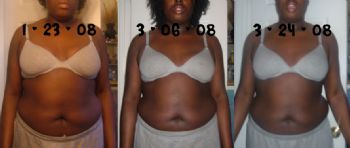 I was in a a rut this week it seems, I had gone from 227 to 232 in only a few days and I was down and out about it (another reason why I hesitated to get a scale). I didn't see the weight loss like other's commented about, I was starting to think it was just a tactic to boost my ego because they knew I was working on becoming fit.
I then opened up my old photoshop program and skimmed through the hundreds of pictures I have and thought I should do a comparison, of what 15 or so lbs can do...to see if I could actually see a difference. Well I must say I am happy with what I see and it has motivated me to actually stop having cold feet and join a gym! I meet my trainer this week and after our meeting I'm gonna contact my nutritionist!
I am now a believer that pictures are HUGE motivators when it comes to weight loss, I will never avoid them again.
p.s.
***You can get a larger view of this pic in my Photo Gallery.
****My co worker told me the weight gain could come from the protein powder I've been drinking since last Saturday (he told me this yesterday). I have dropped back down to 229, so I'm not as upset!