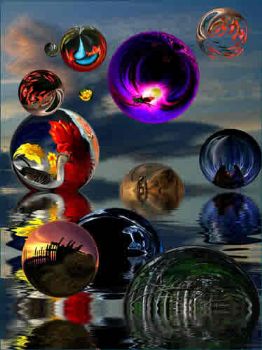 "Maybe we should develop a Crayola bomb as our next secret weapon. A happiness weapon. A beauty bomb. And every time a crisis developed, we would launch one. It would explode high in the air - explode softly - and send thousands, millions, of little parachutes into the air. Floating down to earth - boxes of Crayolas. And we wouldn't go cheap, either - not little boxes of eight. Boxes of sixty-four, with the sharpener built right in. With silver and gold and copper, magenta and peach and lime, amber and umber and all the rest. And people would smile and get a little funny look on their faces and cover the world with imagination." ~Robert Fulghum~
On May 5th I started my eleventh month here on Sparks. As with most, I started my journey here with great enthusiasm and motivation. I went all out for three months and then that original get and go, got up and went. I let it go for a couple of days and then took a long look in the mirror. What did I see? Amazingly, I saw a woman with a sparkle in her eye, a woman I had not seen in a long while. Just how willing was I let her go? Ummmm, I was totally unwilling, so I had to put on my thinking cap and get to work. What had happened to the enthusiasm and zest with which I had started this journey; where had the desire for health and happiness gone? The answer was right in front of me; the desire had gone no where. I was just bored; bored of the same old routine, bored with the exercises, bored with the food. I get bored easily. So, I needed to mix things up, stir up an imagination that had never born fruit and find a way to prod myself forward. I then started to laugh, I laughed till I cried and then I laughed some more. I have never been one to see what is just in front of my face. I belonged to this amazing site, a resource with recipes, a wealth of exercises, motivational articles; absolutely everything anyone could want in their journey towards health. I had searched the web, talked to friends, posted; I had done everything except turn to Sparks. I had not accessed articles, I had not looked at recipes, I had not checked out the exercises; as the saying goes, "you can lead a horse to water, but you cannot make then drink". I sometimes wonder what planet I woke up on, lol.
I spent the next week printing recipes, reading articles, blogs, challenges and incorporating new exercises into my daily routine. Within three days I was once again on my road to health and happiness. Granted, this new start was not begun with the same "high" as when I originally joined; this "high" was tempered by knowledge, the knowledge of success and the work still to be done. I also was gifted with the fact that while it did take work and dedication to make my journey a success; it was work well worth the effort.
Fading enthusiasm is to be expected; I have read many blogs lately attesting to the fact that it happens to most. However, when that happens, and it will, use your imagination and the tools at hand to reignite that "Spark" that brought you here. I have NO imagination, lol; but by reading articles and using the tools provided I was able to ignite my long dormant imagination and move forward. I now make my workouts fun. Because I have physical limitations, my routine changes day to day depending on my pain level. I love to "jig it up"...put on the tunes and dance around the house or out in the yard. When I cannot "dance", I do strength training to funky tunes, making a game out of it, doing things on the beat. When I start to get bored again,I delve into new recipes and new articles, rereading old ones; I paint my world new and enjoy the explosion that follows.
Paint your world new; reinvent the wheel, dig into that treasure trove called imagination and get re-energized. This is a life long journey and it will have have many twists and turns; make sure you are at the wheel and not in the passengers seat.
Live, Laugh and Love,
~Elle~