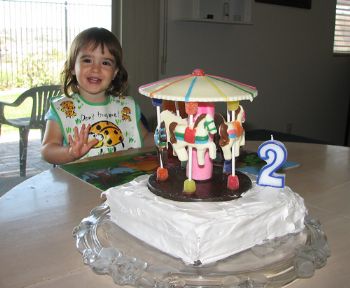 [This is a photo of the source of my undoing... the cake I made for my daughter's 2nd birthday. Those darn spice drops!]
Alrighty! Yesterday I successfully stayed on track. I kept my food within plan, I got my exercise in, and I did the DVD arm workout for the first time (still haven't transfered it to a printable chart though.) So I'm getting out of my cheating rut. It's still a struggle, but I'm conquering it.
This morning's scale was back down to 176.8. So while it's still higher than my Saturday weigh-in, it's at least headed in the right direction again. Right now I'll be happy with this Saturday's weigh-in staying the same as last weeks. Heck, last week's was stellar, so I'll definitely be happy with staying the same this time.
My cheating this past weekend was related to two main things I think. Thing #1 is the obvious and probably primary one... the ready availability of my main weakness... sweets and candy. But Thing #2 was a little more subtle. And if I hadn't experienced this same Thing repeatedly over the years, I might have missed it. My last weigh in was 19.8 lbs lower than my starting weight on March 1st (195). Not 20 lbs, 19.8 lbs. Just another .2 lbs would get me to exactly 20 lbs lost in the last 2.5 months. I often sabotage myself and fall off plan just as I'm about to reach a major milestone. In early November I was hovering at 182. Just another couple lbs and I'd have been in the 170s. Instead I let the holidays and our cruise derail me and I put back on 15 lbs. So then I had to lose it all over again. A year ago I was hovering around 200-202. Getting into and staying in the 190s was my struggle back then.
There's nothing physically special about the number 199 or 189 or 179. There's nothing special about exactly 20 lbs. That part is psychological. It's the significance we assign it and then the things we do to either attain it, or sabotage ourselves into losing our footing. Until yesterday I was a little afraid I might not get control of myself. My biggest issue is cheating. When I start cheating it's incredibly hard for me to stop. That's why I'm so good all the time. It's a control issue - if I let loose some of my tight control, I might lose it entirely. I know this about myself.
I said from the beginning that I'm going to make it. I'm not going to let my issues with the Air Force's weight and physical fitness standards (uh, yeah, that's probably part of this too as I approach my annual tour in June), or irrational fears of success get in my way.
Luckily my cheating and screwing up only lasted 4 days. And, as Stacie commented, I kept exercising through it. And each of my workouts is pretty heavy ith cardio. I did a lousy job with strength training, but the cardio is huge. Gaining just 2 lbs from the experience before getting control of myself is annoying, but not devestating. I'm really glad I didn't let it get totally out of hand.
I think this blog really helped. Knowing I was going to come in here and confess to the screwups kept me accountable. Wanting to come back in here and say I'd gotten it back under control was important to me. There's a tendency when you're successful to just want to post the good times and the successes. But my goal is to post it all- the good, the bad, the ugly. If (when!) I wind up at goal I want this blog to show that it wasn't easy. I worked my butt off and dealt with tempations, emotional eating issues, and stress. Then maybe the blog will help people who are experiencing the same issues. If it's all too easy, what help would it really be?
I'm not going to do the math, but I think my workouts burning over 650 calories 6x a week (not including strength training or abs), combined with the 1500 calories a day, and my BMR should probably be resulting in weight loss faster than ~1.5 lbs a week. But I don't really care. I'm happy with my 1.5 lbs a week average. Hopefully that will help me reduce the effect of my post-pregnancy/post-weigh-loss flabby skin around my abdomen.