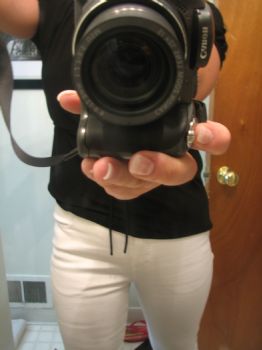 Another great article from spark worthy of posting in a blog. But first, my own comments on weight and the scale.
I admit I peek now and again (when I'm at a store that has scales) but that behavior is really juxtoposed as to how I feel about my body these days, which is pretty great. I think I'm just curious more than anything, and I giggle about it now because it always surprises me. This is quite the opposite of how I used to feel about it or myself.
Why? Because I Feel good. I hold less water, thanks to eating clean. I don't really diet anymore. I just eat better food and less processed and more proteins, and veggies. That sort of thing.
I'm a steady size 8 and still focusing on eliminating extra fat from my body. I have anough fat around my arms and stomach that I could turn into muscle and stay an 8, or shake off and trim to a lean size six. This I know but I'm undecided about it and don't care. What I care about is being tone, so should a few more pounds come off, then that's a requirement. The key for me, is to work out a little more. The key for me includes appreciating the long term payoff from eating clean and not obsessing over the scale or body fluctuations. All those things have empowered me.
I'm certain I'm still in the 150's but I'm also certain that my long term goal is to hold steadfast to the belief in eliminating the scale as the dictator in my relationship with my body. This is a mindset I am working on. And the result will be a range I am comfy with and I'll know what range is right for me by the way things fit and how I look in the mirror. Should I weight here and again, that number will just be a 'by the way' after thought.. and I won't care.
You see, when I look in the mirror I see curves not flaws. I see progress. I see a whole woman who has come a long way. And that my friends, is a good thing.
Now help me start that revolution: A revolution to LOVE YOUR BODY!
Oh, and lastly, remember, repetition is always key to long term success in any of your goals! That includes the way your mind works and thinks. REPEAT REPEAT REPEAT!
Without further adieu, here's the spark article:
Measure Progress Without the Scale
An Arsenal of Tools for Your Motivation
-- By Liz Noelcke, Staff Writer
Frustrated. Disappointed. Hopeless. Skeptical.
Whichever you choose, these emotions are enemies of people trying to lose weight—especially when you feel like you have done everything right. For many trying to shed pounds, the elation from that initial weight loss is brought to a screeching halt when the scale stops moving. But, instead of viewing this as a setback, look for other ways to measure your progress besides the scale. After all, good health isn't always measured in pounds.
Losing weight usually involves a relatively simple calorie equation: burn off more calories with daily activity than you consume through food. So what happens when these numbers indicate progress, but the scale doesn't? Before the aggravation sets in, consider why this might be the case. If you've been hitting the gym on a regular basis, participating in both cardiovascular and strengthening exercises, then chances are good that you have shed some fat. But the scale might not indicate this because you have also been building lean muscle. Since muscle is dense (a small volume of muscle weighs more than the same volume of fat), the scale might not reflect your hard work.
Non-Scale Signs of Progress
See results by taking a trip to your very own closet. Take out a pair of pants that fit snugly before you began your new, healthy habits. Are you able to ease into them, when before you had to sit (or lie) down and yank them up your legs? This is a sure sign of progress toward a leaner you! What about an old shirt? Is it now a little loose around your waist or arms? Also look for improved muscle definition when you check out your body in the mirror. There are many everyday indicators that you are firming up your body, from how your clothes fit to sitting more comfortably in a booth or small chair.
Aside from weight, use other numerical signs of progress. When you first start your program, take measurements of your waist, arms, neck and hips. Even if you are not losing pounds, you very well may be losing inches all over your body as your figure slims down and tones up with muscles. Measuring your body is more reliable than the scale alone. Other numerical indicators include a reduction of blood pressure or cholesterol, heart rate, and body fat percentage.
Monitor how a healthy diet and regular exercise affects your energy levels. Not only will you be able to work out for longer intervals of time, but everyday chores will also become easier. Whether cutting the grass or simply walking up the stairs, these behaviors will come effortlessly. Think of all the daily activities you could use more energy for—grocery shopping, house cleaning, playing with your kids, and more. Pretty soon you'll be training for your first 5K!
Lastly, be conscious of how you feel emotionally. You've been working hard to reach your goals. Hopefully, the hard work will come with a boost in self-esteem, confidence, and happiness. Are you beginning to feel more comfortable in your own body? Work to build a positive vocabulary to stay motivated.
Just because the scale has stopped moving doesn't mean that you've hit a plateau in reaching your goals. Don't give up out of frustration—all healthy behaviors are well worth the effort. Whether it's better sleep at night or more energy throughout the day, start listening to the signs your body gives you that all of your hard work is paying off!