More November
Sunday, November 04, 2007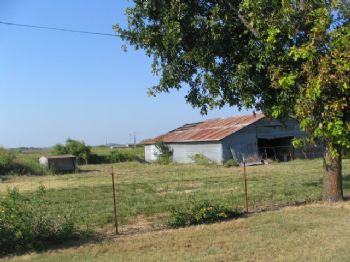 I am not doing so good and another night last night and I will be on an uphill swing. I am not going there but am going to make a today goal. I am going to drink my 8 glasses of water.
I have already walked 34 minutes and am now going to go get ready for church. I made good choices for breakfast and lunch. I am going to need to begin doing real tracking in the morning.
I have used the quick track but I blow that one off way too often. So as of tomorrow I will do complete tracking both exercise and food. Nope I am not ready to share them on an open board yet but I may be if I think it will help me get back on track.
This is the barn across from my mothers. It has a couple of goats in there to keep the weeds and grass down. My sister in law did not think they were working fast enough so she mowed it. My brother nearly died. It was so funny. That little story is to remind me that my bad choice may not be such a bad choice for someone else.
I have to eat in a way that I can continue until I die. It has to include some of the fun stuff. I simply need to understand how to get back on after an evening or a day of not so healthy choices without it becoming a production.
I need some small goals. Not for food but other things and I know how to get them. Reaching one set of goals helps me to reach another set. It says I am capable.