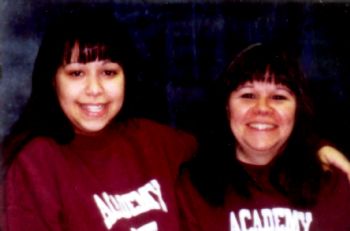 They used to call me mom's "Mini Me." We ate out together, ordered in together - it was bliss! My father had a different technique when it came to dealing with me and food. It pained him daily to watch what I ate. Being young, I mistook the look in his eyes to mean he was disappointed in his fat daughter when really it was more of a look of empathy; he too had been a chubby kid. He knew I was only digging myself in deeper, but the more he looked at me that way, the more I had to prove that I didn't care what I looked like and that I wasn't unhappy. This is the lie I lived with my entire life - pretending to be happy in the skin that, to spite someone else, I'd stuck myself in...
I was a big fan of excuses and swore up and down that I was "big-boned." I never honestly believed my body had the ability to be small, trim or – OMG – fit, until I started seeing my mother's diet change... No longer was she having what she called her "breakfast of champions," Entenmanns Rich Frosted Doughnuts and diet soda, now she was weighing her food and sticking to an exercise plan she'd been secretly following for a couple of months before I noticed! She was losing weight and soon she was knocking on my door!
I was finishing my last year in college and I couldn't believe she was trying to tell me that I could do it too... PLEASE! SHE had ALL DAY to work out; I had a job, projects and classes to get through! In my head, the same little girl that saw my father's look of disappointment was now hearing this suburban housewife telling me she didn't want a fat daughter either! Well, at first I reacted but with the wonders of the human brain's development, unlike at age seven, at twenty-two it dawned on me that maybe she had my best interests at heart! I promised I'd do something about it, but as usual, on my own terms. Only after I graduated would I even be bothered with an attempt at weight loss. My brain still had some developing to do - clearly I was looking at this with defeat in mind...
I finally graduated and the following Monday morning, once again mom knocked on that door. She handed me a sports bra and said, "You promised! Come on, let's work-out!" May 22, 2005 was the first time I'd ever heard my mother say that. I was twenty-two-years old but it made ALL the difference in the world! By now, mom was FIT and looking incredible. Working out with her, I'd stare. She was more than twice my age and she had done something I'd never thought she could! I didn't believe in me, how could I ever believe in her? She turned my mind around completely! Mom measured out my daily snacks, introduced me to new foods like yogurt, cheese sticks, cereal... I made it home for dinner so I could eat under supervision - portion control was extremely difficult for me so I NEEDED someone there to say, "That's enough!" like my father had tried to do all my life. I worked out nearly everyday, running and lifting six days a week and sometimes Sundays! I watched how much I ate, started drinking water every chance I got. I completely changed my habits and lifestyle. Working out felt like an eternity in the beginning! When doing intervals on the treadmill, I could barely run at the speed I now walk at. I realized that all the effort was wasted if I failed on the portion control aspect of my diet and didn't watch what I ate. Cookies no longer tasted as sweet! FINALLY!
Unlike the old days, when the family task was which Uno's deep dish toppings we wanted, talk around the family table is now about the run one of us went on or what new exercise someone's doing. Keeping up is motivation in itself!