ive never felt this way before
Sunday, January 27, 2008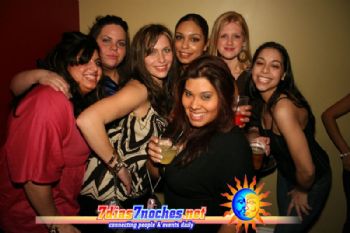 i was never much of a dancer or club goer... i remember before forcing myself to go to someone's party or out with the girls i would agonize over what i was wearing, how i looked, if my "chicho" aka muffin top was showing... having to go anywhere that i might see people i knew left me full of anxiety and frustration, hours of trying on everything in the closet to feel fat even in my one fave outfit... it was even worse when i knew i'd have to meet people for the first time...
Tonight was a brand new experience... my best friend of over 10 yrs was celebrating her bday at a club near my old stomping grounds... around eight i was doing the closet thing this time i couldnt find anything decent not because the clothes were too tight but because i dont really have much of a dress up wardrobe... i pulled something out my sis gave me an eternity ago (i love weight loss hand me downs) nothing racy just less coverage than im used to, thin straps corset like... anywho... i was trying diff things on when my dude comes home and does the typical hey show time!.. at first my old mentality kicked in, i was uncomfortable with him watching me change a thousand times told him he was distracting me, i even asked him if my arms looked fat, to which he looked at me with surprise (he's known me BIG N SMALL) shook his head and said "NO! you have to wear this its hot!"
i swear i dont know where she goes and i only realize she's left when she returns... and then i have to remind myself that im no longer that person anymore! sometimes it seems i'll look in the mirror and not see what i've accomplished but the silly things that i cant change, thats one of those old characteristics of the heavy lisette!
lets get to the point
the club is super close to the town i grew up in soo much so that as i walked up to the end of the line to get in i noticed an ex boyfriend from jr high, right away i said hey and he looked at me and was like "hey omg i didnt even recognize you!" first feel good moment....when i finally got into the place it was like hs reunion, i even saw 2 other girls i went to grade school with... one of my closest hs friends first statement to me was "damn girl you look like a little kid!" when Dora, the bday girl, introduced me to some of her sisters friends who also went to hs with us they were like "yea i remember you omg what did you do!" my fave was laura who just looked at me and said "i have to know how you did this i wanna look just like u..."
i swear i got goose bumps no one i actually know has EVER said that to me! all these people remember the old lisette, who before getting to the club i was feeling a little bit like, and here they were reminding me that im not her! it felt incredible... i'll remember that every time i harp on something i cannot change not just body wise but every thing! i can no longer be the person that picks apart at herself especially when others are viewing me with high regard i NEED to truly see my new self from now on in the same light!